What is the Sheltie Rescue Shop?
The Sheltie Rescue Shop is a catalogue of fund-raising items being sold by Sheltie Rescue Groups. All listings contain contact information for ordering and all purchases are made directly from members of the rescue group. This site serves only as a marketing tool to help the groups raise more funds through more sales. No commissions or fees are received from the groups from sales generated or web space provided here.
SRS Coffee Mug

A coffee mug featuring the Sheltie Rescue Shop logo is available in our CafePress store for $12.49. Proceeds from mug sales will be used to help defray some of the costs of hosting and maintaining this site.


Help spread the word about the Sheltie Rescue Shop by linking to this site.
Banners and buttons now available here.
Complete Collection of
The Shetland Special on CD
The collection includes a complete set of The Shetland Special, published from 1949 to 1962, which was the predecessor of The Sheltie Special. Most of them were acquired from Catherine Coleman Moore.
This old magazine is simply marvelous. There are 31 issues with a total of 650 pages. It contains vintage Kennelogs and articles, along with hundreds of advertisements. There are many hundreds of photos, including the great ones of the breed during the time frame.
Martha Mulkin wanted to preserve her set of magazines, so she scanned them and then converted them to .pdf format, which can be viewed with the Acrobat Reader. It works on both a PC and a Mac.
The donation is $40 and all the money will go to rescue except for actual expenses (the blanks, cases, labels, shipping materials and postage.) This effort is not connected to or sanctioned by ASSA or the ASSA Foundation. Martha will take the orders, make and mail the CDs, and send the money to Dorothy Christiansen, ASSA Rescue Chairperson. If you would like to have some references, feel free to ask Martha. I think the best ones of all will be from the first people who get a CD and report back.
Please contact Martha Mulkin mulkin@verizon.net for her address and with any questions.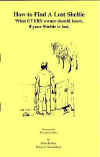 Click on image to see larger version
How to Find a Lost Sheltie -
What EVERY owner should know, if your Sheltie is lost.
It can easily happen....they slip out when you open the door.... something spooks them and they slip their collar....a neighborhood kid or repairman leaves a gate open.....it happens to even the best owners. Unfortunately, because of their nature, Shelties that are lost often become scared and will even run and hide from those they have known for years. This booklet can be a lifesaver. Find out what types of areas a frightened Sheltie will seek out, how to get the word out about your lost dog, how to catch the dog once you know where it is, and more. No owner should be without this booklet! Price: $2.00/ea.
Proceeds will benefit Central Ohio Sheltie Rescue (Penny Sanderbeck), WV Sheltie Rescue (Jo Ann Jones), and Jacksonville Sheltie Rescue (Ernie & Darla Duffey)
To get your booklet contact either Penny Sanderbeck Uncentavo@aol.com or Darla Duffey DDuffey@aol.com
CafePress.com
CafePress.com offers rescue groups another fundraising option. You can create and sell T-Shirts, mugs, mousepads and more with your own designs on them. You just upload a picture, and they create a complete store-front for you - completely FREE. It's really easy and doesn't take long. The best part is that they manufacture the items as they are ordered, so you don't need to buy any inventory. If you are planning an event and want to have items on hand to sell, you can purchase items at cost from your own store. Any rescue groups that open a CafePress.com shop or already have one, if you send me the url, I will be happy to list a link to your store on this site.

E-bay Auctions to benefit rescue
If your rescue group has an e-bay account, send me a link to your auction account and I will list it on this site.